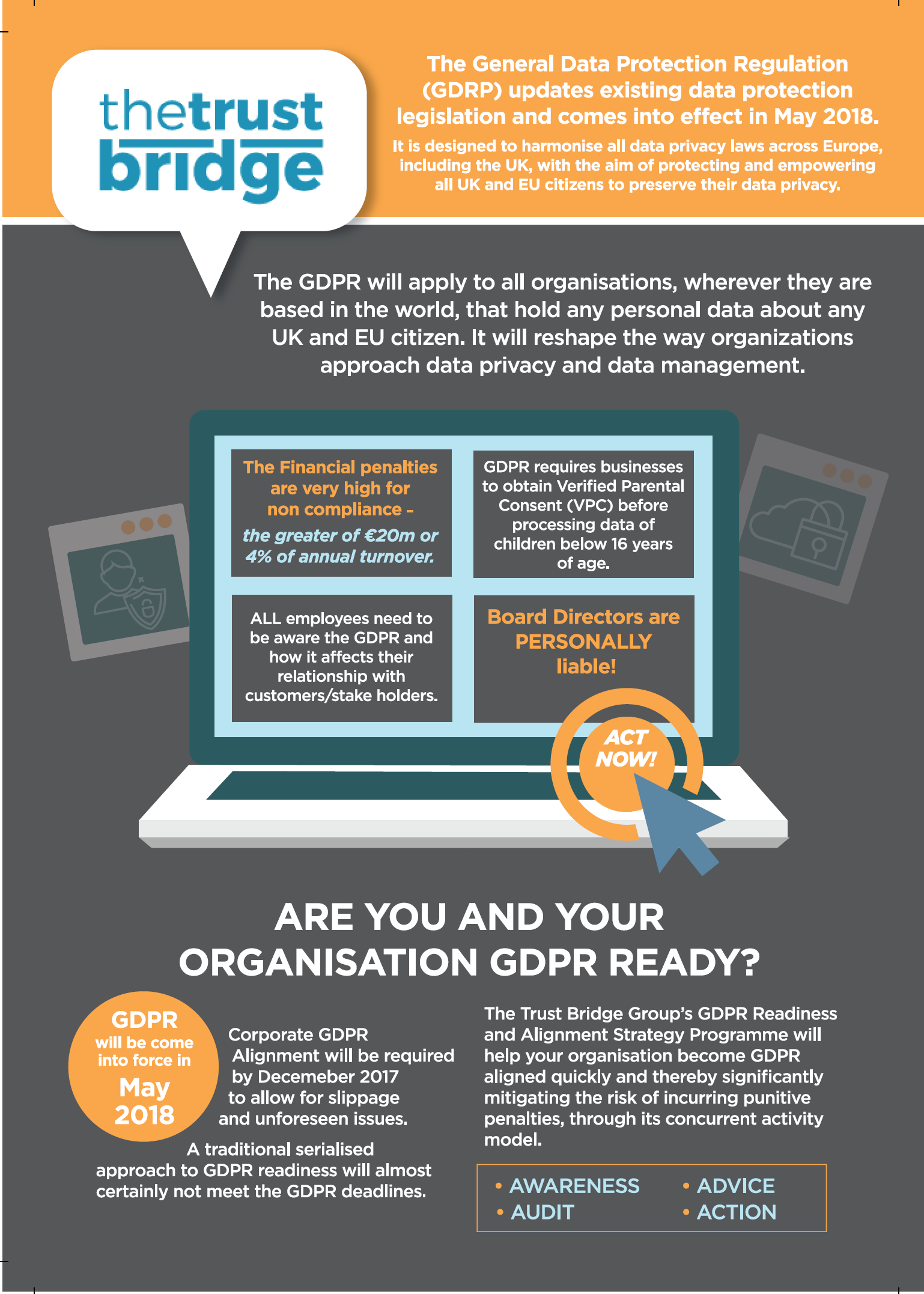 Are you GDRP Ready?
GDRP is a new law that comes into effect in May 2018. It is designed to standardise all data privacy laws across Europe, including the UK, to protect and empower all UK and EU citizens to preserve their own data privacy.
The GDPR Law will apply to all organisations that hold any personal data about any UK and EU citizen. It will reshape the way organizations approach data privacy and data management.
The General Data Protection Regulation (GDPR) is coming into EU and UK law in May 2018.

Any organisation that is not GDPR compliant could face a fine of €20m or 4% of its annual turnover.
The risks are HUGE for organisations who do not comply

All employees need to be aware and comply

Board Directors are personally liable
The GDPR not only applies to data controllers but to the wider data ecosystem, which includes, for example, data processors, data management platforms and marketing tech platforms.
BUT
What is GDPR?
How will it affect your organisation?
Does your organisation comply?
What are the consequences if not?
How do you get started to ensure your organisation is compliant in time?
The Bridge's GDPR Practice, The Trust Bridge, is running a number of breakfast briefings as well as the GDPR Conference on 9th October 2017.
Book your place using the code TB100 for a preferential delegate rate of £595.

http://www.gdprsummit.london/age-related-consent

We have developed a 4 stage GDPR Readiness programme which clients are using to plan and make changes to their organisation's privacy, data and communication policies and processes to ensure compliance.
If you wish to check that your organisation is compliant, please contact us to arrange a meeting.