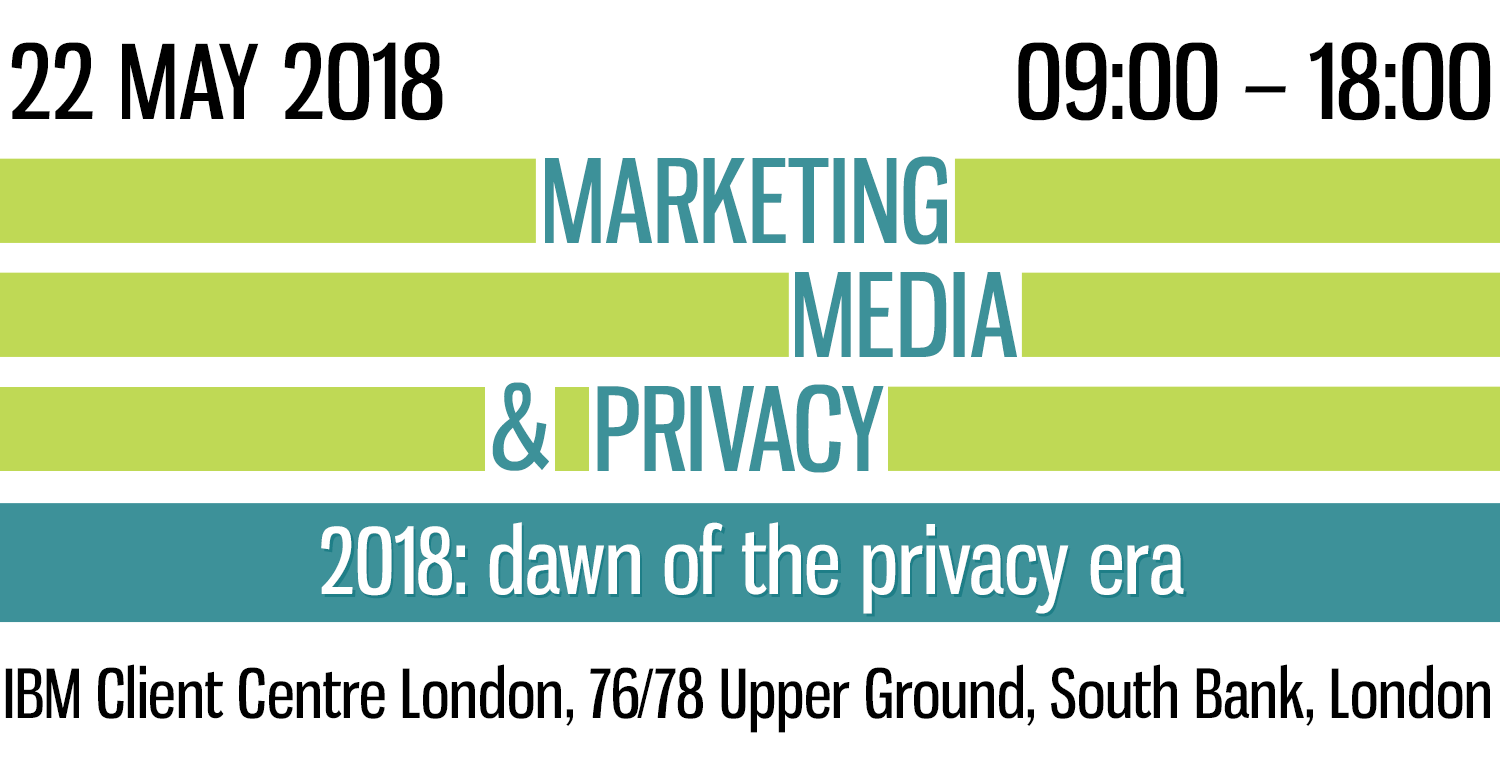 May 22nd 2018
On 22 May, three days before The General Data Protection Regulation (GDPR) comes into force, Marketing, Media and Privacy (MMaP) brings together leading experts to discuss the future of media and marketing in a post-GDPR world and the evolutions we will see in the following 12 months as GDPR comes into full effect.
Questions that will be answered on the day
Does GDPR offer a real chance of transparency? Or will there always be smoke and mirrors?
Can new technology really protect privacy, build trust and drive competitive advantage?
Has GDPR killed programmatic trading?
What are the best ways to ask for consent, and once you have it what do you do?
Can trust and engagement be built with pseudonymity, transparency and accountability
Legal-speak has made privacy unusable. Can we rescue privacy from the lawyers?
GDPR has made targeted media risky, can trade associations help de-risk?
Be prepared to hear some lively debates, controversial views and case studies that reveal how brands and publishers plan to use compliant data for media and marketing.
Who Should Attend?
The huge and still uncertain impact of GDPR and the vital significance of the topics being debated make this event important to anyone in a leadership position within marketing and media.
This is an event for anyone whose business depends on buying or selling targeted digital advertising. Marketing Media and Privacy is specifically aimed at: senior marketers, data scientists and DPOs within consumer brands; the senior commercial and sales team at digital media brands; and the commercial leadership of media agencies.
9:00
Welcome address from event partners, IBM, Kantara Initiative and The Trust Bridge
Steve Norledge, GDPR Leader, IBM, UK & Ireland
Colin Wallis, Kantara Initiative
Penny Heyes, The Trust Bridge
9:15
Opening Keynote
Mary Keane-Dawson, Co-Founder & CEO, TRUTH
9:50
Will GDPR drain the digital media data swamp? Can trust and engagement be built on transparency and accountability?
Moderated by David Clayton, MD, TrueNorth
Panellists:
Richard Reeves, MD, AOP
John Broughton, Consultant
10:35
Coffee and networking
11:00
Johnny Ryan – how personal data are currently misused in online advertising, why consent will not be given for adtech, and how online media and advertisers can avoid using personal data entirely
11:30
Can new technology really protect privacy, build trust and drive competitive advantage?
Moderator: tba
Panellists:
Dr Ben Livishits, Chief Scientist, Brave Software
Dr Rachel O'Connell, Co-Founder, Trust Bridge
Mark Lizar, CEO Open Consent
Rupert Graves, CEO, AdUnity
12:30
Lunch
13:15
Asking awkward questions: What is the best way to ask for consent?
Moderated by Vincent Potier, COO, Captify
Panellists:
Dino Myers-Lampty, MD, MullenLowe MediaHub
Can Huzmeli, GDPR Programme Manager, Skimlinks
14:00
GDPR has killed programmatic! Long live people-based marketing!
Moderated by David Clayton, MD, TrueNorth
Panellists:
Lyndsi Plummer, Associate Director, Accuen Omnicom
Alasdair Cross, Commercial Director, PiCompli
Paul Gubbins, Head of Programmatic, Unruly
14:45
Coffee and networking
15:00
Will GDPR make privacy more understandable and how can standards help?
Moderated by Dean Armstrong QC, Elias Partnership
Panellists:
Colin Wallis, Executive Director, Kantara Initiative
Zach Thornton, External Affairs, DMA
15:45
Are trade associations and codes of conduct needed to demonstrate compliance?
Moderated by Carol Tullo, Associate Consultant, Trust Bridge
Panellists:
Richard Reeves, MD, AOP
Zach Thornton, External Affairs, DMA
16:30
Closing keynote
17:15
Drinks and networking
Please bookmark this page and return regularly. It will be updated with additional keynote speakers and content as they are confirmed.
About Marketing Media and Privacy 2018
Marketing Media and Privacy 2018 is brought to you by an exclusive team of digital advertising, privacy specialists and senior business strategists from Kantara Initiative, Open Consent, The Trust Bridge and AdUnity. The event marks the week of GDPR enforcement and asks whether GDPR will really usher in a new era of digital privacy and be as disruptive as many people say.
MMaP 2018 takes a digital marketing and media perspective of GDPR. We will look at what GDPR was intended to achieve: protect consumer privacy, inspire technology innovation, stimulate new business models, encourage codes of conduct, support the use of industry standards and provide one of the main building blocks for the Digital Single Market. Will this happen? Has this happened? What is really happening? Marketing Media and Privacy 2018 is the best place to evaluate the real impact of GDPR and where it is taking the industry.
At the event, speakers, panellists and delegates from the industry are encouraged to engage in frank and mutually beneficial dialogue with each other as well as with a host of privacy regulation and privacy standards experts.

9th October 2017: GDPR Conference
he Implications of the General Data Protection Regulation Businesses who Handle Adult, Children And Young People's Data
http://www.gdprsummit.london/age-related-consent

(code TB100 for a preferential delgate rate)
Background
The General Data Protection Regulation (GDPR) is coming into EU and UK law in May 2018.
A business that is not GDPR compliant could face a fine of €20m or 4% of its annual turnover. If data processors breach their statutory data security obligations, they can be fined up to €10m or 2% of annual turnover, whichever is greater.
The GDPR will financially penalise organisations that are based in or operate from the EU that are not GDPR compliant.
This affects all companies who hold any data on any clients / consumers - anyone!
The General Data Protection Regulation (GDPR) companies to obtain Verified Parental Consent (VPC) before processing children and young people's data.
The risks are HUGE for companies who do not comply
All employees need to be aware and comply

The Bridge together with our partners Trust Elevate are running a one day GDPR Conference which will focus on the impact GDPR will have on businesses and to help answer these questions. We will provide a pathway to help all board directors ensure that their businesses are or become GDPR Compliant and that all staff are trained. You will hear from some key figures in the world of data and cyber security, who will highlight the opportunities and the threats to you and your business.
The aim of the Age-related Consent and Digital Rights stream of the GDPR summit is to educate attendees about the changes to data handling, privacy, security and a range of business and oversight processes that organisations need to implement to align with the GDPR and related legislation.

EMail us now to register your interest : Penny@thebridgegroup.biz
or book here using the code TB100 for a delegate preferential rate
http://www.gdprsummit.london/age-related-consent

ROUND TABLE DINNER DISCUSSIONS
You are invited to join us
Venue: Swan, Shakespeare's Globe, 21 New Globe Walk, Bankside, London SE1 9DT.
Timing: Thursday 6th April 2017 from 6.30pm, Keynote 7pm followed by dinner, Departure 9.30 onwards
Topic : Making Cities Smarter and Safer using the Internet of Things
The Internet of Things (IoT) has been likened to the next industrial revolution, but have you ever considered what it might do for your organisation? This is an opportunity to meet with industry peers as well as experts who are pioneering solutions for retail, utilities, supply chain and logistics, and facilities management – all of which have a part to play in the smart cities of the future.
With discussion lead by our sponsors, you can discover how the Internet of Things is coming of age and enabling new ways of managing buildings, venues and workplaces.

Hear from Innovate UK how the Government is supporting business transformation.
Gain introductions to organisations which are leading the way in this arena including Hitachi Data Systems and Avnet.
Places are limited so please RSVP to penny@thebridgegroup.biz or Tel 07768 962 480 to request a place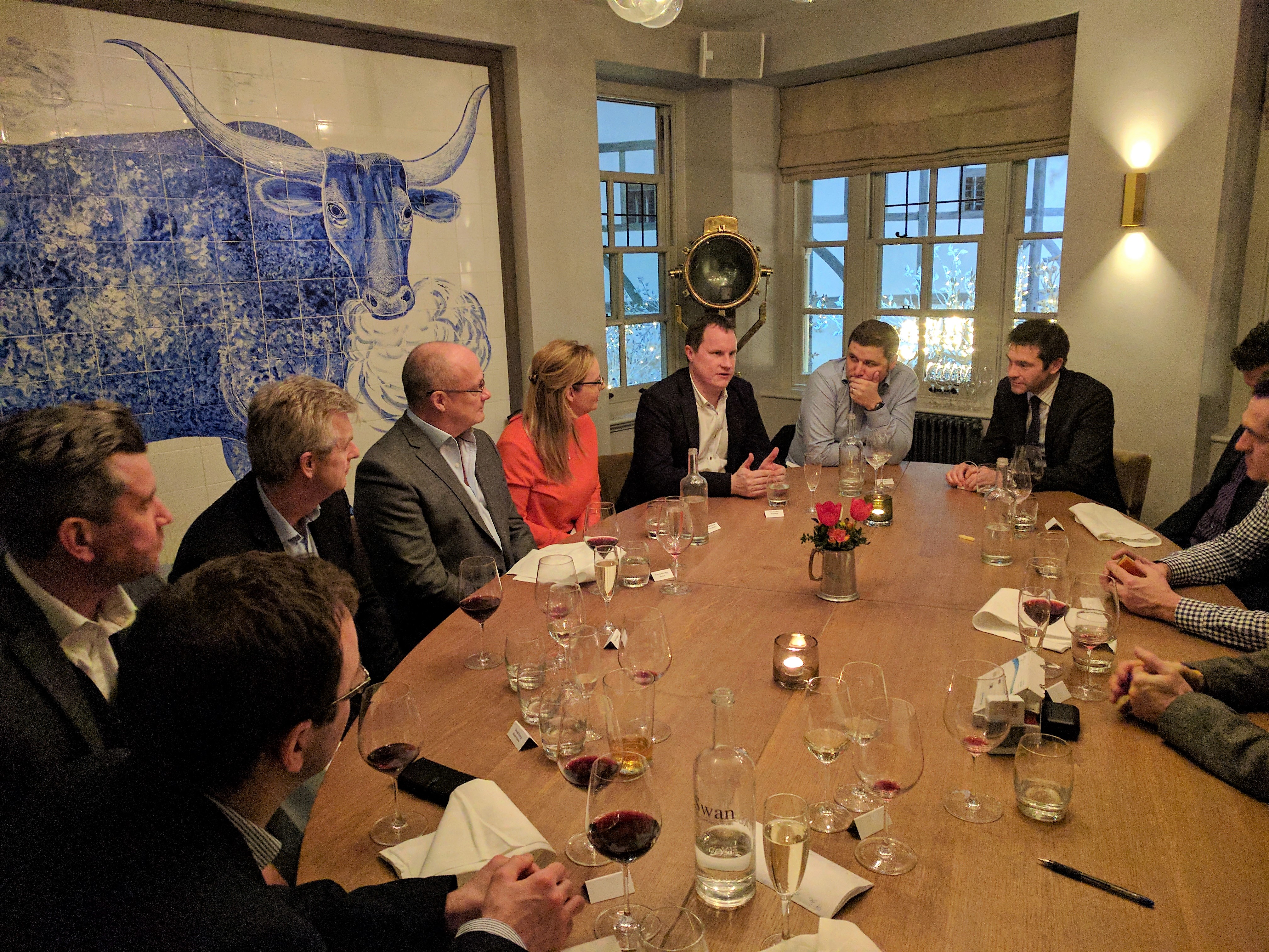 HALF DAY SEMINARS AND WORKSHOPS: BRISTOL & MANCHESTER
---
The Bridge Group has launched its series of Digital Innovation Seminars.
Research shows that between 40 - 53% of non-executive directors believe their boards lack the skills to tackle digital disruption, rating it as by far the most needed expertise to improve board performance: The Digital Void.
We have designed these seminars to offer insight and support to board directors and non executive directors,as well as senior managers, into what is happening in the world of digital and mobile, and how it could affect them and their companies.
The "Digital Innovation Seminars" reveal the most important mobile and digital trends that will impact business, various industry sectors and markets worldwide. We identify the latest and future global and sector-specific trends relevant for all organisations, examining the impact they will have on consumers and business. We examine the significance of digital technology and associated innovations and the consequences for us all.
The seminars will examine real life case studies that will illustrate the approach and advantages that have been experienced by companies adopting digital developments.
---
The Seminars will be lead by:
Dr Graham Dodgson:
Dr Dodgson has been at the forefront of technology innovation all his career. Immediately after graduating in Electronic Engineering, he joined Racal, a leader in military data communications. Moving into biomedical engineering, in which he graduated with a PhD, he was involved developing advanced electronic aids for the deaf. Graham subsequently established a new division of Dantec A/S where he led a team which developed laser technology into industrial sensor products for process control in various industries.
After graduating from London Business School Sloan Fellowship course, Graham also ran the largest division (Semiconductors, set-top boxes, workstations, broadband systems) of Acorn Computers prior to its de-listing on the LSE and conversion of ACORN to ARM shares. (ARM was a spin-off from ACORN).
Graham has been a founding member of teams in a number of start-ups developing the first electronic programme guide, way before the Sky Box became ubiquitous. He developed, founded, raised funding and subsequently sold a mobile device user interface company, Keisense.
He is now director and co-founder of an exciting company developing a true Holographic 3D display system. In addition, Graham is a consultant to several organisations across a number of sectors and international markets, in the areas of technology strategy, valuation, licensing and M&A.
Mr Steve Leyland:
Steve is a high-tech industry expert with significant experience in general management, sales and marketing roles in the fields of unified communications, media and telecoms. He currently advises boards and CEOs of international-facing companies on how to achieve growth – specifically in the areas of market analysis, marketing & sales acceleration, product portfolio strategy, international expansion & multi-cultural challenges.

He has worked and lived in London, Los Angeles, New York, Brussels and Paris as well as leading multi-functional teams in India, China and Latin America.

Steve is an accomplished lecturer and workshop leader having dedicated several years to teaching technology and management topics logging over 5,000 classroom hours in seminars and workshops all over the USA and the world. Today he gives keynotes at industry conferences and events worldwide
Guest speakers will be joining us to talk about real life case studies
Tickets prices include a copy of part 1 of the Digital Agenda Report on Internet of Things £450 ex VAT per person
Seminar 1: Demystifying the Internet of Things: what it means for your business
The latest seminar in the series looks at The Internet of Things: what it means for you, your business, your future.
All attendees will gain insight into the steps required to start the transformation process of adopting IoT technologies and why it should not be ignored.

---
Dates and Venues:
May 9th 2017 8.30 a til 1pm with lunch - Bristol, M Shed, Princes Wharf, Wapping Rd, Bristol BS1 4RN
May 16th 2017 8.30 am til 1pm with lunch - Co Op Digital, Federation House, Federation St, Manchester M4 2AH.
We will be running events in London and Glasgow in June
Please contact us if you would like more information about our next sessions.
info@thebridgegroup.biz
If you would like us to run a workshop for your company / board of directors / senior management team, please contact us.